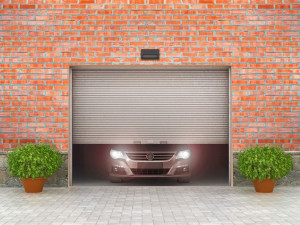 Have you given much thought to your garage door lately? The garage door is the biggest and heaviest moving item in most homes, and more than 20,000 people each year are injured by them. That's why we wanted to share with you these important safety guidelines that can help keep you and your family safe. Whether you live in a home with multiple garage doors or a condo unit with a detached garage, by following these tips, you'll be able to keep yourself — and your family — safe when around these massive doors.
1. Make sure children cannot reach the garage door opener controls. It may not be enough to hang your remote from your car's visor. With curious little ones around, it may be best to keep it locked in the glove box.
2. Remind children that the garage door remote is not a toy. Remind them to never place fingers between door sections.
3. Make sure you know how to use your garage door's emergency release features work. Typically, this involves a fail-safe system with the ability to release the door by pulling on a short rope that hangs from your garage door. This is particularly important for power outages and overall garage door system failures.
4. When is the last time you looked at the workings of your garage door? Visually inspect your garage door each month. Look at springs, cables, rollers and pulleys for signs of wear. Check your garage door regularly and hire a professional for periodic inspections. Once a year ought to do the trick.
5. Make sure your garage door's reversing mechanism is working. Place an object, such as an empty paper towel holder, in the door's path and make sure the door does not close on the object. If the door does not go back up automatically, try realigning the safety eyes or call a professional to help you with this task.
6. Don't leave the garage door partially opened. It's both a safety and a security hazard.
7. When you're on vacation, unplug the garage door opener unit or lock it.
If you are buying a home in the Black Hills of South Dakota hire Red Horse Home Inspection.  Our thorough home inspection will give the confidence that your home is safe for you and your family. Check out a sample home inspection report and see our latest reviews.  Easily schedule your home inspection online.
https://d8d3upeh4c0jf.cloudfront.net/wp-content/uploads/sites/85/2020/07/27042856/FACEBOOK-red-horse-home-inspector-logo-1030x1030.jpeg
0
0
redhorse
https://d8d3upeh4c0jf.cloudfront.net/wp-content/uploads/sites/85/2020/07/27042856/FACEBOOK-red-horse-home-inspector-logo-1030x1030.jpeg
redhorse
2022-01-02 13:54:00
2022-01-02 13:54:00
Garage Door Family Safety Tips